Personalised Services
Southern Monograms are proud to provide quality custom clothing to customers both big and small across New Zealand.
We offer all our customers a personalised service and can provide assistance throughout the entire process, from an inspired design to fast delivery, so start creating today by getting in contact.
Clothing Specialists
Southern Monograms supply screen printed or embroidered t-shirts, hi-viz garments, uniforms for schools, sports teams and businesses.
Southern Monograms use state of the art screen print and embroidery technology, which enables them to supply the best result for your emblem or logoed uniform New Zealand wide.
Southern Monograms has the largest embroidery factory in the South Island. Our team of embroidery machinists have decades of combined experience to ensure that your job is professionally finished and gets out on time.
Screen printing is the reproduction of a logo using silk screen and ink to create designs directly onto fabric. Screen printing is ideal for 100% cotton fabrics, long production runs with relatively few colours in the design.
Digital print transfers machine print logo onto a vinyl or PVC that can be then applied onto your garment using heat (a little like an iron on transfer). Heat pressed transfers are ideal for nylons and polyester rich fabrics.
Direct to Garment printing is a relatively new break through in garment printing technology. It is like screen printing but without the necessity to set-up screens for each colour.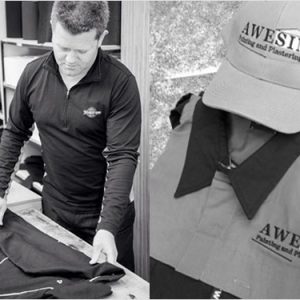 Computer cut is vinyl cut to basic shapes to form a design.There is a limited colour palette and this is ideal for large numbers and individual names for sports teams.